POST HOLE DIGGER - 2 MAN PETROL
Code: 271935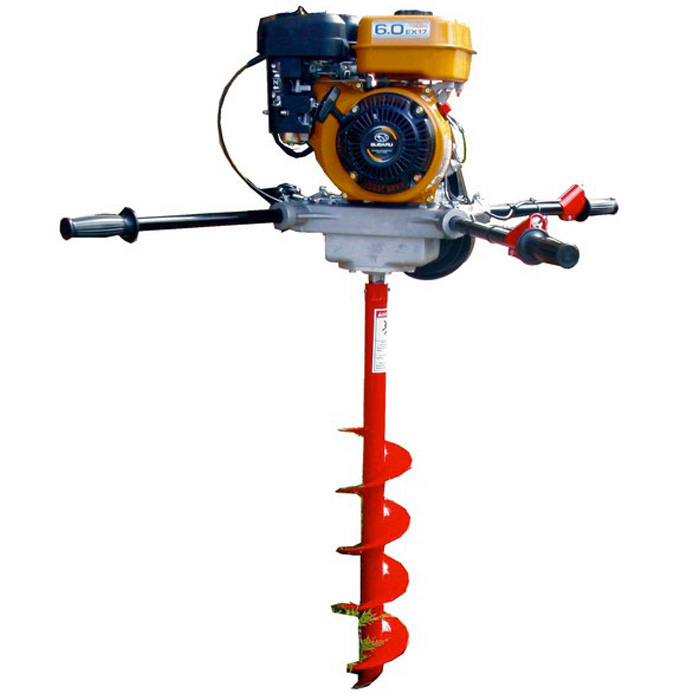 *Product availability may be subject to fluctuation
*EQUIPMENT shown may not necessarily be in stock and immediately available and specifications may vary between models. Pictures shown are for illustration purposes only.
The very popular Two-man Post Hole Digger is the workhorse of the Groundhog line. It's simple straightforward design promotes durability and requires very little maintenance. This unit will dig with augers up to 12'' and comes equipped with a centrifugal clutch and a finger operated, return-style throttle.
Make: CROMMELINS
Model: C715SX
Dry Weight: 35KG
Capacity: 12MM
Power: 2.9kw
- Well balanced
- Heavy wall handlebars
- Easily transported
- 7/8'' square auger drive
- Heavy duty aluminum castings
- Ground Hog's time tested transmission
- Heavy duty industrial cog-type drive belt
- Trigger-type return-style throttle
- Centrifugal clutch with all metal shoes and drum, with needle bearings
- Easily digs with a 30cm (12'') auger
- Will handle the hardest soils
- Auger speed 180 rpm @ 3600 engine rpm (no load)
- 21 kgf-m torque/150 lbf-ft (approximate)
- 6.0hp Subaru EX17D engine
---
Post Hole Diggers Range [6]
---
Other Landscaping & Agriculture Lawn & Garden Products