CHERRYPICKER 12M TRACKED
Code: 100205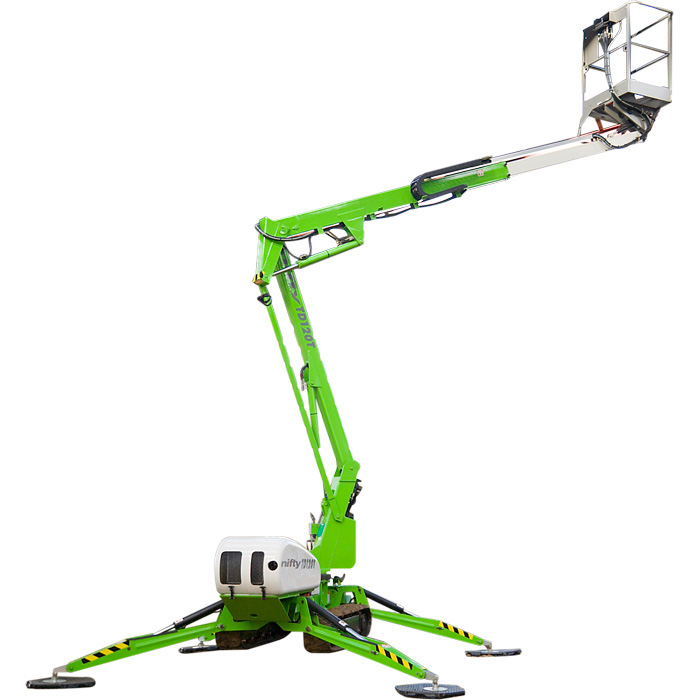 *Product availability may be subject to fluctuation
*EQUIPMENT shown may not necessarily be in stock and immediately available and specifications may vary between models. Pictures shown are for illustration purposes only.
The TD120T track drive cherry picker offers an impressive   working envelope from a compact base with outstanding traction.  The TD120T track drive access platform delivers 60% gradeability   with excellent traction on steep or rough terrain. Weight-saving  design means that site to site transportation is more economical   and this tracked 12m hydraulic platform is also more efficient,  allowing it to work for longer while using less fuel. Also available   are rubber-free urethane tracks, the TD120T track drive access   platform  is ideal for internal or clean applications, increasing   the number of locations that the TD120T track drive access   platform can work, greatly improving its utilisation.
Make: NIFTY
Model: TD120T
Width: 1.1m
Height: 1.9m
Length: 3.95m
Dry Weight: 1890kg
Capacity: 200kg
Power: Diesel, Mains
Fuel: ULP
---
Cherry Picker Range [3]
---
Other Access Platforms Cherrypickers Products