ROLLER TRENCH - ARTICULATED PADFOOT
Code: 150105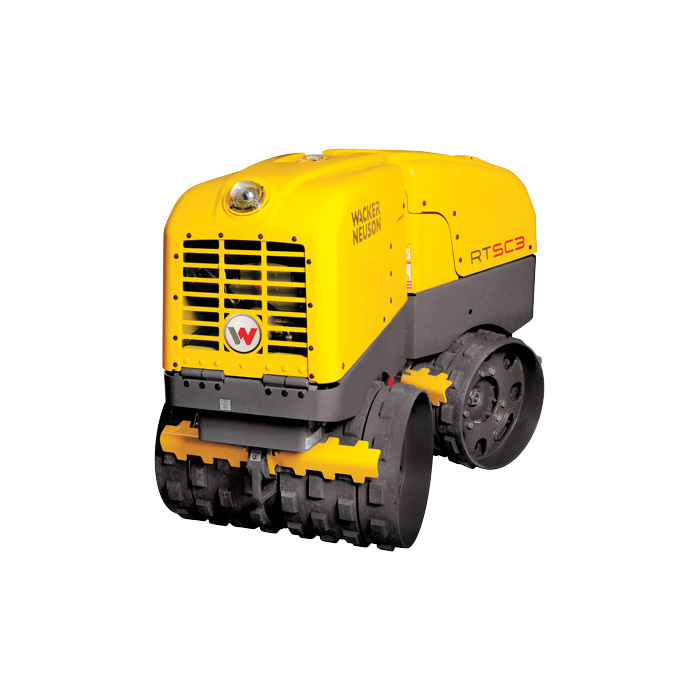 *Product availability may be subject to fluctuation
*EQUIPMENT shown may not necessarily be in stock and immediately available and specifications may vary between models. Pictures shown are for illustration purposes only.
The RT trench roller with the SC3 infrared-remote control offers proven compaction results with safer operation. The smart control uses an infrared signal with line-of-sight control.  The machine stops moving and vibrating should the line-of-sight be lost or if the operator comes within one meter (three feet) of  the roller's receiving eyes with the control box. The articulated  trench roller offers below the axle exciter in each drum to allow for the efficient transfer of compaction energy to the soil for  superior compaction results.
Make: WACKER
Model: RTLX-SC3
Width: 820mm
Height: 1270mm
Length: 1853mm
Dry Weight: 1495kg
Fuel: D
- Articulate joint increases maneuverability 
- Flexible drums allow for convenient conversion from
82 cm/32 in to 56 cm/22 in.
Centrifugal Force: 68.4kN

Drum Width: 560 / 820mm

Fuel Capacity: 24ltr

Fuel Consumption: 4.5ltr/hr

Gradeability max: 45%
★★★★★
"The Trench roller I hired from these guys did the job quick and effortlessly."
---
Harrison Young - WOOLLAHRA NSW 2025
Thursday, April 06 2017
Other Compaction Rollers Products