BOOMLIFT 10M (34FT) DIESEL/ELECTRIC 4WD
Code: 100015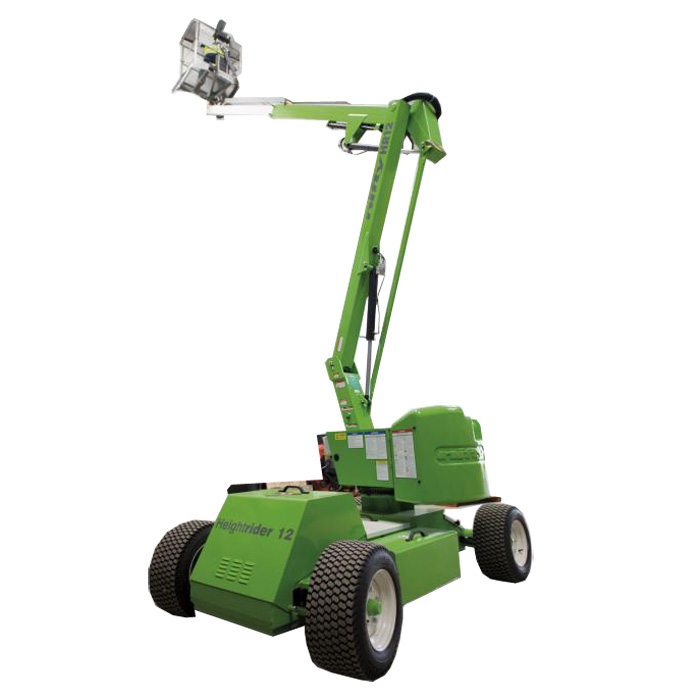 *Product availability may be subject to fluctuation
*EQUIPMENT shown may not necessarily be in stock and immediately available and specifications may vary between models. Pictures shown are for illustration purposes only.
The BOOMLIFT 10M (34FT) DIESEL/ELECTRIC 4WD is designed for maximum reach from the lightest base, it is one of the most versatile and reliable machine in its class. Its superb manoeuvrability makes it ideal for a wide range of applications  accompanied with both electric and diesel operations for indoor and outdoor off road uses with its 4WD capabilities. The deep tread rough terrain tyres provide extra grip even on soft ground. The telescopic upper boom allows for exceptional platform  accuracy. Uses include: Painting, sign work, electrical and plumbing services, general maintenance and installations.
Make: NIFTY
Model: HR12N
Width: 1.5m
Height: 1.9m
Length: 4.1m
Dry Weight: 3435kg
Capacity: 200kg
Power: Battery Only - Petrol Diesel or LPG only
Fuel: D
 - Platform Height: 10.2m
 - Working Height: 12.2m
 - Working Outreach: 6.1m
 - Bi-Energy 
 - Narrow 1.5m chassis width
 - Telescopic Upper Arm for platform accuracy
---
Boom Lift 4wd Range [7]
---
Other Access Platforms Boomlifts Products